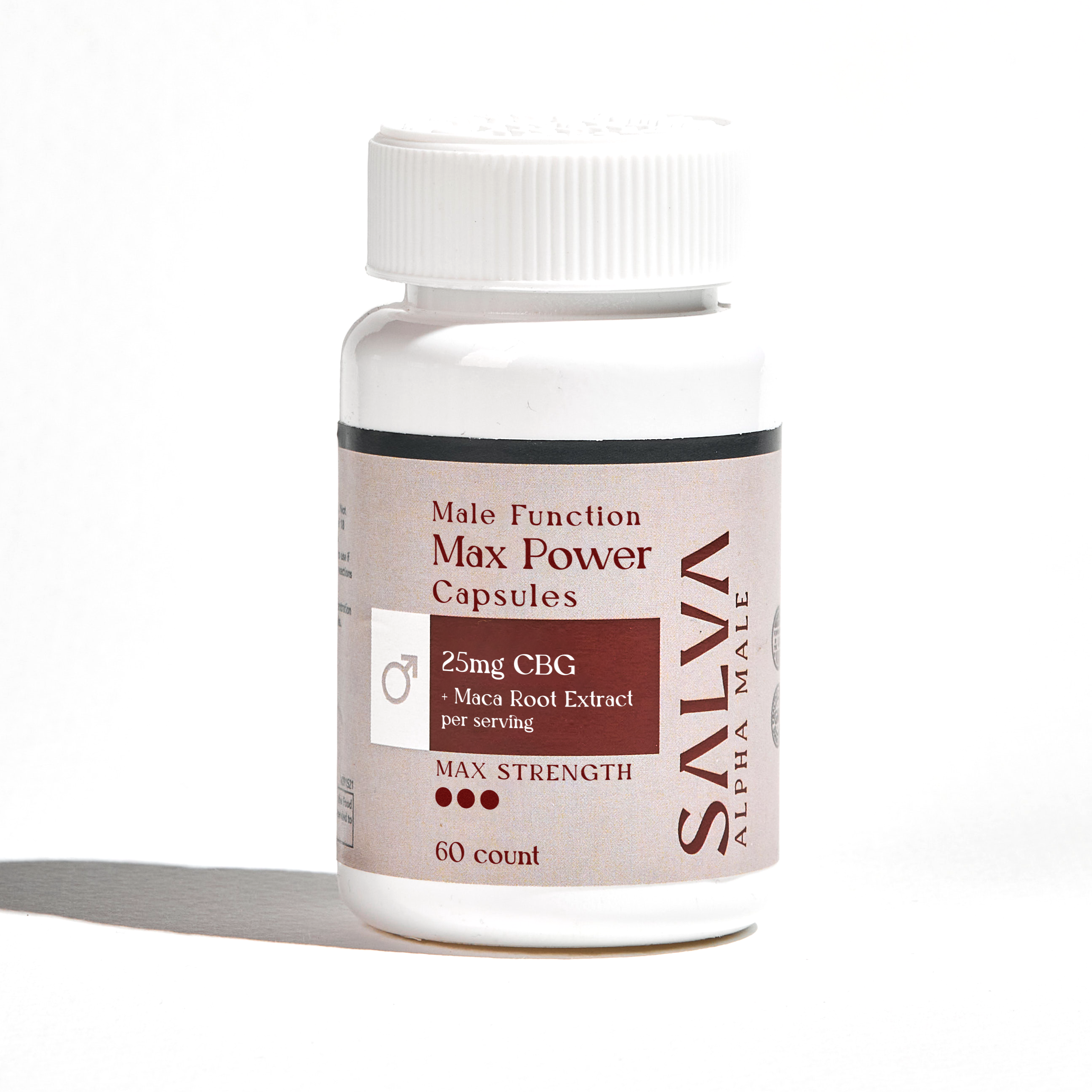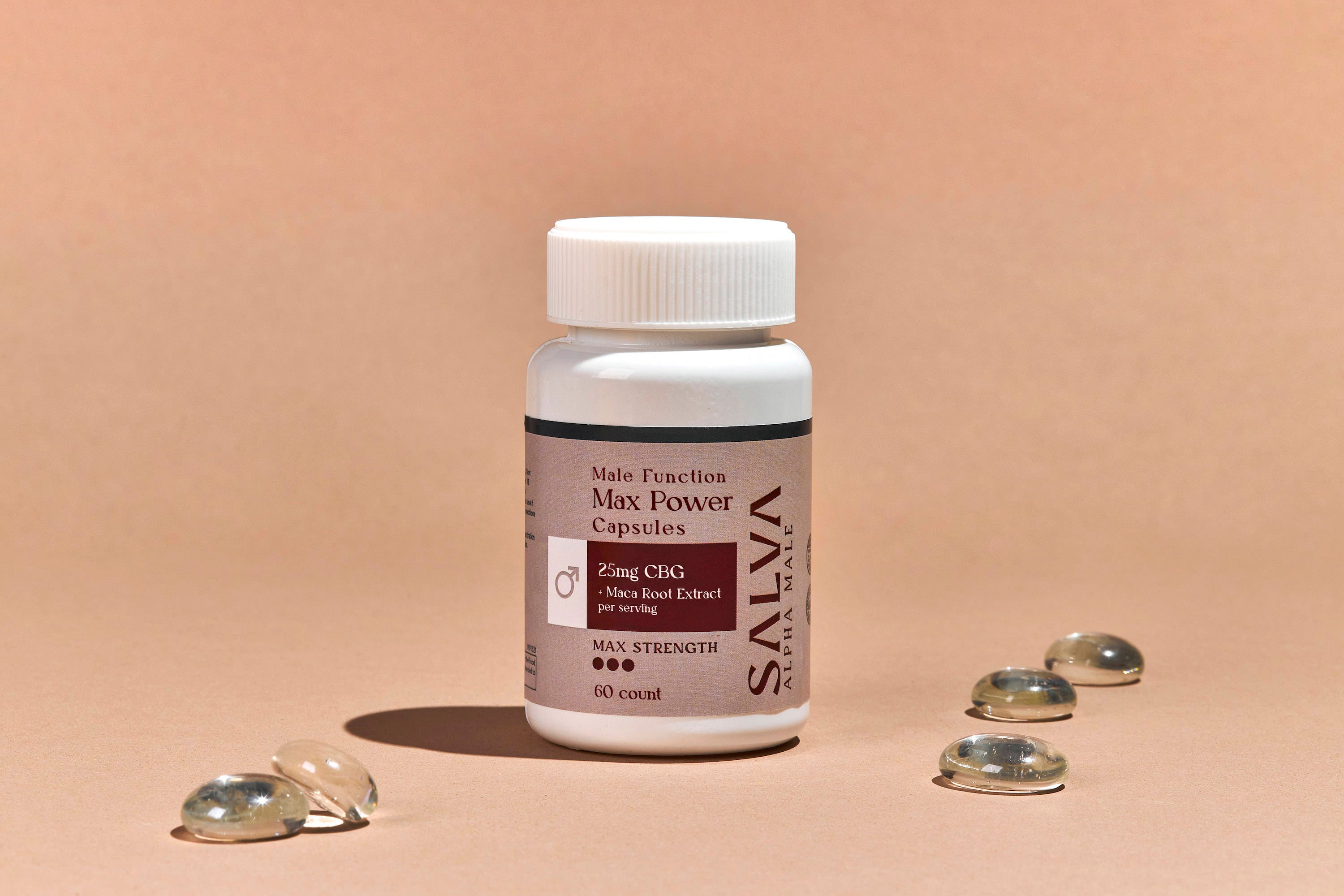 SALVA Alpha Male Max Power Capsules: 25mg CBG + Maca Root Extract (60 count)
---
Experience the Power of CBD: Unleash Your Alpha Potential
CBD for men has revolutionized the way men address the challenges of everyday life, offering a safe and effective solution. Whether you're seeking enhanced productivity, better sleep, or overall wellness, CBD for men unlocks the potential of the misunderstood cannabis plant. And the best CBD for men comes in a convenient and digestible form: SALVA Alpha Male Capsules.
Elevate Your Performance with SALVA Alpha Male Capsules
Introducing SALVA Alpha Male Capsules, a groundbreaking blend of pine tree pollen, Maca, Guapinol, CBG, and CBD carefully crafted to provide men with increased energy, enhanced focus, and a greater sense of balance. Imagine feeling rejuvenated and relaxed after a long day, or effortlessly maintaining productivity at work. With CBD combined with thoughtfully selected supplements, SALVA offers an extensive range of benefits.
Discover the Wellness Revolution with CBD for Men
CBD has taken the wellness world by storm, and for good reason. Thousands are praising the profound sense of well-being that CBD brings, without any unwanted side effects. SALVA Alpha Male Capsules represent the pinnacle of this wellness revolution, empowering men with improved focus and resilience in the face of life's challenges. CBD products are unique in their ability to harness the finest benefits of the cannabis plant, allowing you to explore its transformative potential in your own life.
Unleash Your Alpha Potential with Ease
Simply take one dose of Alpha Male Capsules in the morning or evening, and unlock the full range of benefits they offer. Experience how these capsules can enhance your everyday life, leaving you more rested and clear-minded. Rediscover your focus and invigorate your life with a wellness solution that has been overlooked for far too long. Now, it's ready to revolutionize your life.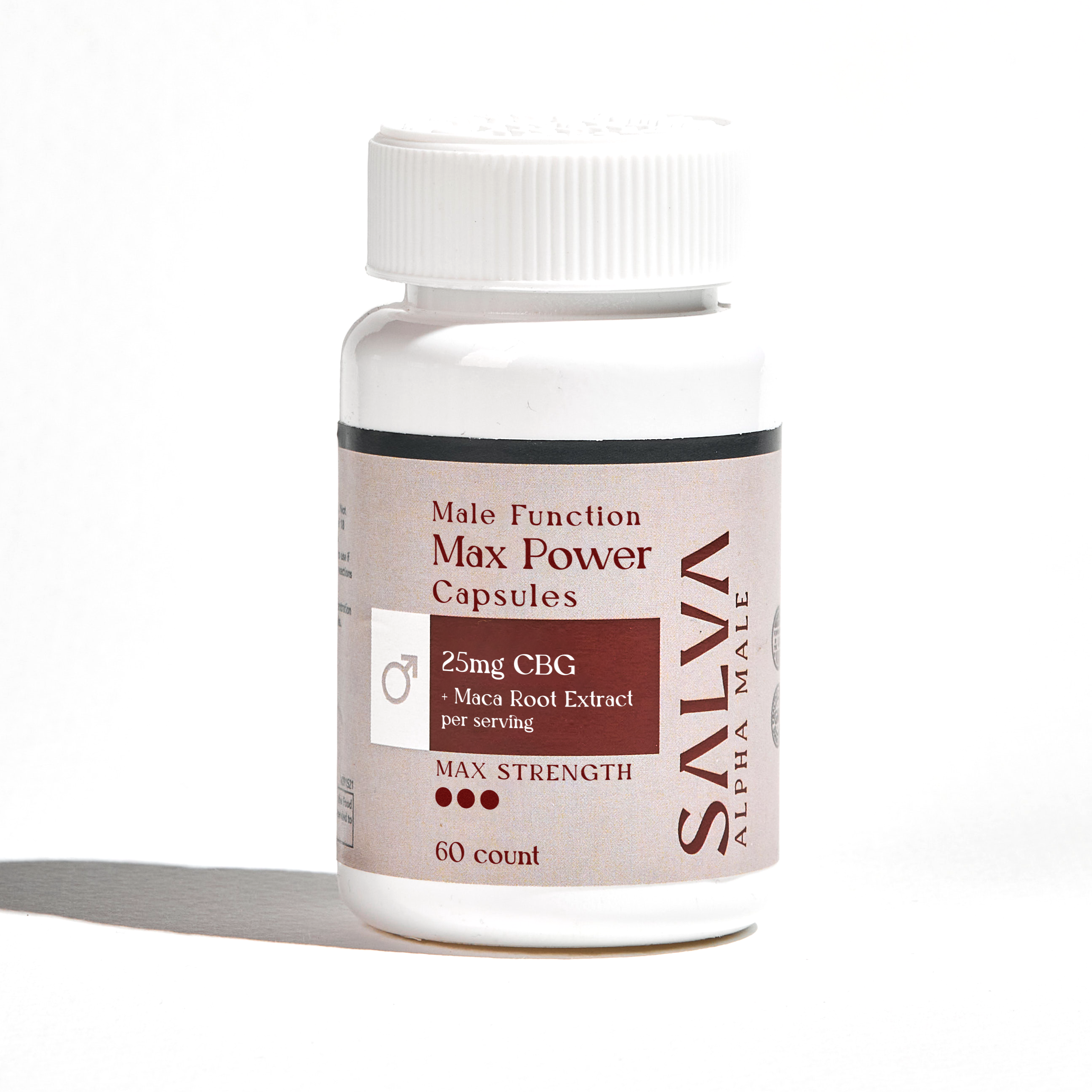 Frequently Asked Questions
Curious to learn more about SALVA Alpha Male Capsules? SALVA remains committed to helping you find the perfect product that best suits your needs. Find answers to the most frequently asked questions regarding CBD for men and how they can provide you a better tomorrow.
CBD for men comes in many different forms including dried flowers, oils, tinctures, and edibles. SALVA Alpha Male Capsules take much of the guesswork out of consumption methods and dosing. Simply consume one dose one SALVA Alpha Male Softgels in the morning or take one dose before bed to feel all the benefits CBD has to offer.
Yes, of course! CBD is completely non-impairing and can be used at any time of day. You will not experience any kind of "high" or impairment when using CBD for men. CBD is free from THC, the compound that has been known for recreational use rather than wellness.

Take note of your first experience, and increase the dosage in very small increments over several nights.