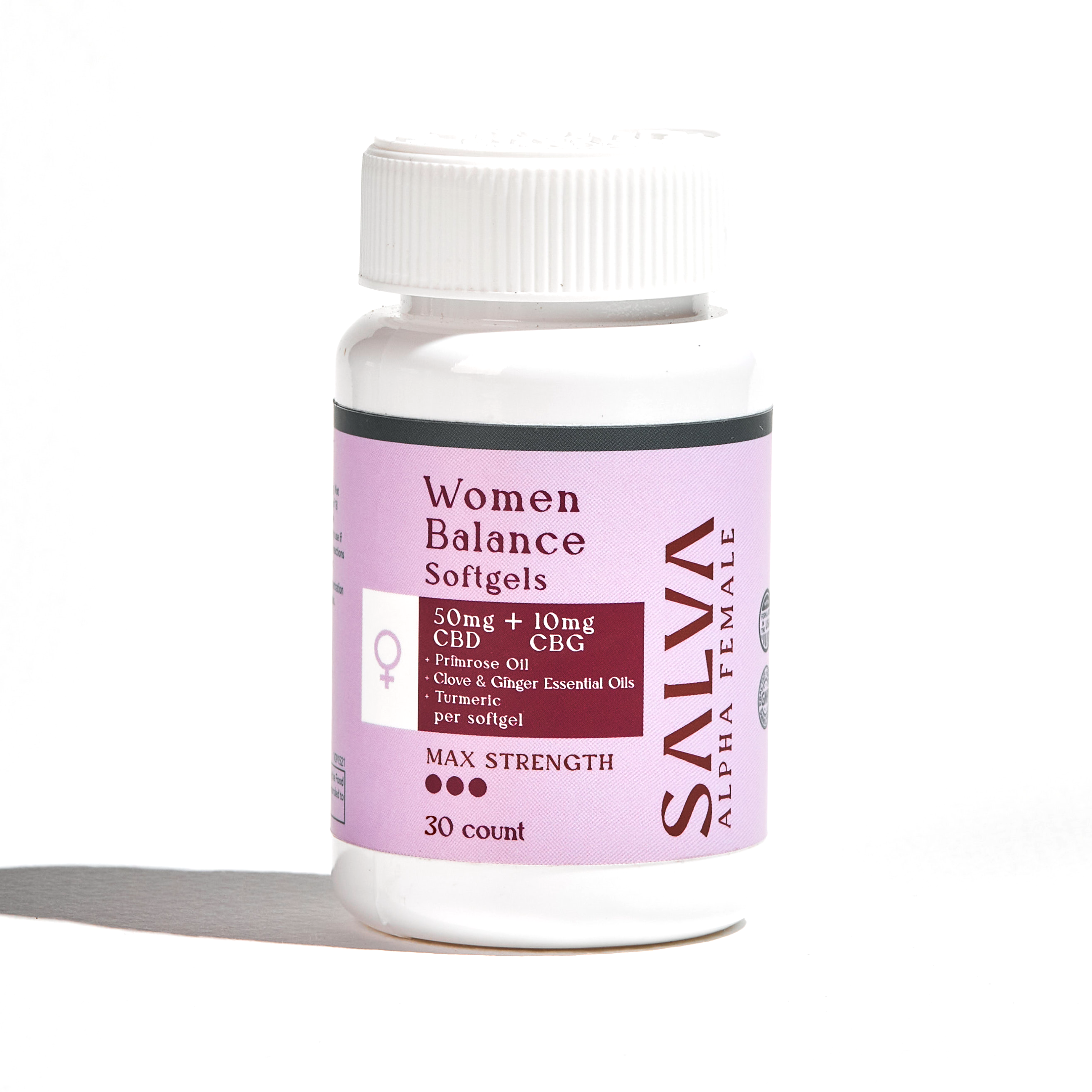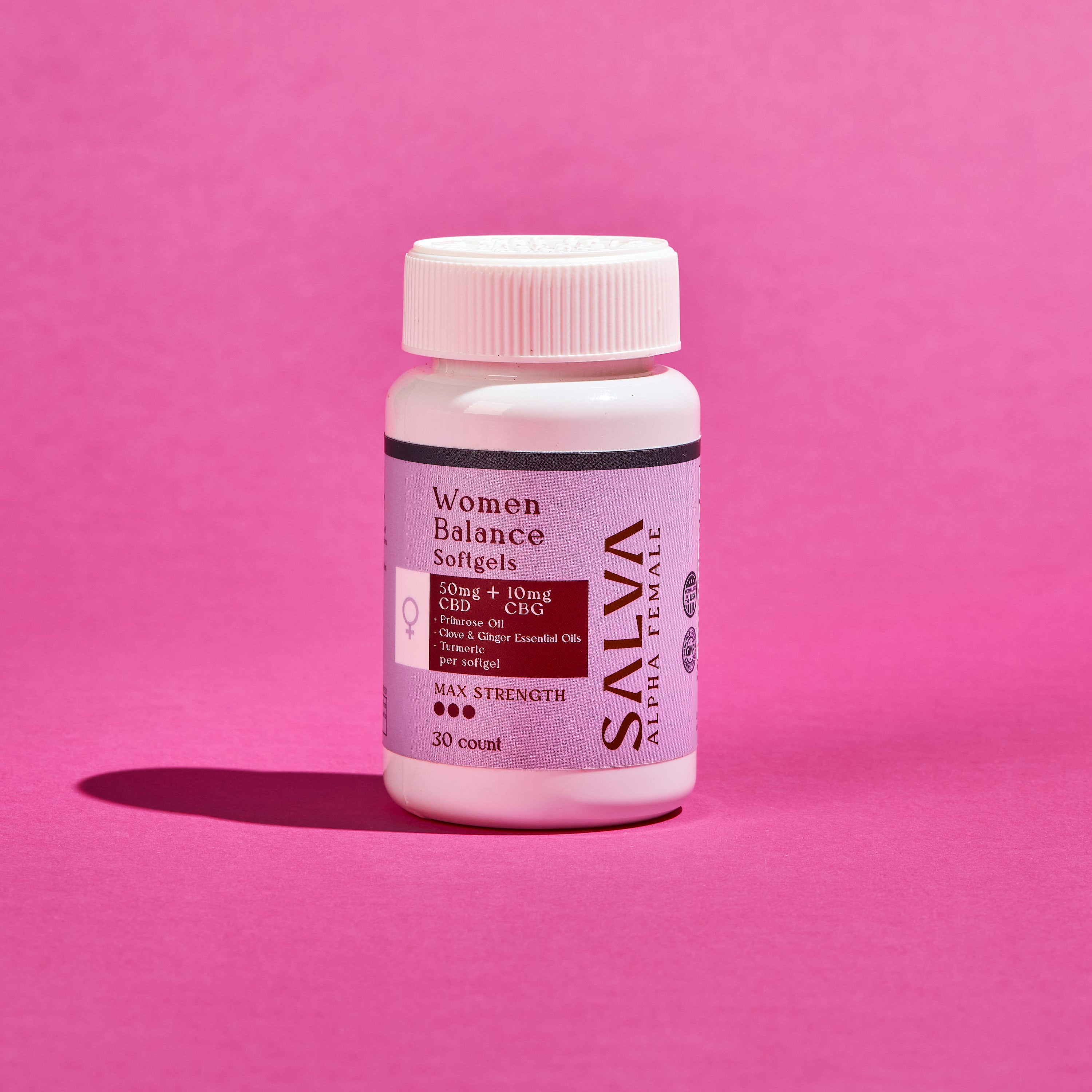 SALVA Alpha Women Balance Softgels: 50mg + 10 mg CBD CBG + Primrose Oil + Clove & Ginger Essential Oils + Turmeric (30 count)
---
Unlock Your Potential with SALVA Alpha Female CBD Capsules
At SALVA, we've tirelessly crafted a CBD softgel product that empowers women around the world to enhance their lives. Our commitment to safety and effectiveness drives us to deliver potent CBD solutions that elevate your mental and physical well-being. Still have questions? SALVA is here to guide you in finding the perfect CBD product tailored to your unique needs.
CBD: Empowering Women's Wellness
CBD for women has taken the wellness world by storm, offering more than just a sense of balance in daily life. It has become a powerful tool for boosting productivity and promoting overall health. Unlike traditional cannabis consumption through dried flowers, CBD softgels provide a non-impairing and versatile solution that offers a wide range of therapeutic benefits. Experience the transformative effects of CBD as it enhances your well-being across all aspects of life.
Introducing SALVA Alpha Female CBD Capsules
SALVA Alpha Female CBD Capsules are the latest addition to our product lineup, designed specifically for women seeking to elevate their wellness at home and in the workplace. Explore the myriad benefits these softgels offer, including improved mental well-being, enhanced focus, and a better night's sleep. By integrating female-focused supplements with the wonders of CBD, SALVA empowers you to achieve a state of optimal well-being.
Join the Wellness Revolution with CBD for Women
CBD lies at the heart of a revolutionary shift in health and wellness. As cannabis use becomes more widely accepted, women are discovering newfound levels of focus and productivity previously deemed unimaginable. CBD is poised to redefine how women achieve balance in their lives by harnessing the therapeutic benefits of the cannabis plant while leaving behind the psychoactive "high" commonly associated with it.
From achieving restful sleep in the face of daily stressors to managing symptoms of anxiety and chronic pain, CBD offers a holistic approach to living a fulfilled and balanced lifestyle. SALVA's Alpha Female Softgels bring together a carefully crafted blend of female-focused supplements and CBD in one simple wellness solution. Imagine the impact of a night of quality sleep on your productivity or the freedom from anxiety that holds you back from reaching your full potential.
With SALVA, CBD becomes accessible and uncomplicated. Our all-encompassing softgel multivitamin product ensures a safe and convenient CBD experience at any time of the day. Embark on your CBD journey with SALVA and discover the incredible therapeutic benefits packed into each softgel. Unleash your potential and embrace a life of balance with our simple yet transformative CBD solution.
Frequently Asked Questions
For anyone that is unsure of the benefits of CBD for women, find answers to some of the most frequently asked questions.
How to Use CBD For Health and Wellness? 

Consumers have often reported an improved state of being with regular and consistent CBD use. Alpha Female Softgels with CBD should be consumed orally several hours before bed to not only provide a more restful sleep, but to also promote greater productivity at work the next day. Keep in mind that desired results can take up to three hours to be felt, as oral CBD products need to traverse through our digestive systems before health benefits are felt.
Is CBD Use For Women Safe?

Yes, absolutely. CBD is special in that it does not have any impairing effects whatsoever. As a cannabis compound free from THC, many women can rest easy knowing CBD use can be used safely at any time of day. CBD and the cannabis plant have long been misunderstood by society as just a recreational drug when in reality, it can offer therapeutic benefits that can improve anyone's quality of life.
Will CBD For Women Help With Stress and Feels of Being Overwhelmed? 

Yes. While CBD use is unique to the individual, many regular consumers of CBD report feelings of relaxation including reduced levels of stress and anxiety. Consider taking a dose of SALVA Alpha Female softgels in the morning and feel gentle therapeutic benefits throughout the day including more focus along with an improved ability to manage stress and anxiety.
Will CBD Help With Menstrual Pain?

Yes. Consuming CBD has been known to address many forms of pain including muscle soreness, joint pain, inflammation, and even menstrual pain. While CBD can produce a wide range of therapeutic benefits, CBD could be the perfect solution for addressing menstrual pain. Alpha Female Softgels are perfect for first-time users looking to explore the benefits of CBD use for themselves, taking much of the complications out of correct dosing and consumption methods. SALVA has simplified the cannabis journey for many, offering an all-in-one solution for women curious about the role of CBD in their lives.
What Can CBD Do For Women?

CBD can promote greater feelings of wellness in several different forms. Many women have experienced great success in addressing stress and anxiety, achieving a better night's sleep, or simply feeling more focused at work. CBD use for women is entirely unique to the individual and many women must see for themselves what this cannabis compound can do for them.