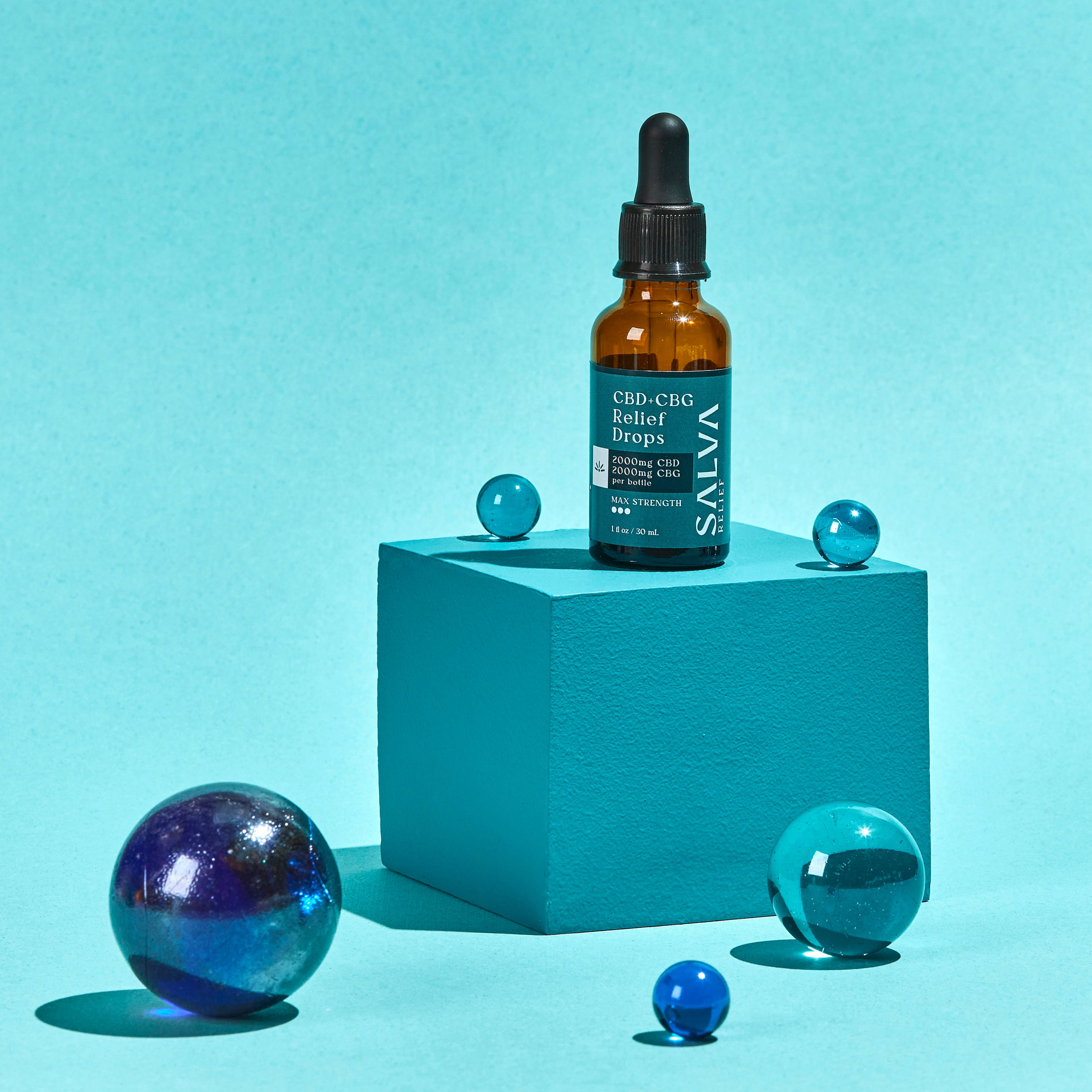 SALVA CBD+CBG Relief Drops: 2000mg CBD + 2000mg CBG (30 ml)
---
Unleash the Power of CBD+CBG Tinctures by SALVA
Experience the extraordinary with Salva's CBD+CBG tinctures, a remarkable blend of full-spectrum oils that deliver a potent dose of cannabinoids, all while containing virtually no THC. Our unique tinctures offer consumers an unparalleled opportunity to explore the combined benefits of CBD and CBG in a single, groundbreaking product. With Salva, you can rest assured knowing our CBD+CBG tinctures are abundantly safe, free from any impairing effects associated with THC.
CBD+CBG Tinctures: Elevate Your Cannabis Experience
While CBD tinctures have been available for years, the cannabis plant and its boundless resources are constantly evolving. Enter CBG, the latest cannabinoid that has garnered immense popularity for its effects akin to CBD. Although CBG is found in trace amounts across various cannabis plants, it possesses remarkable therapeutic potential.
CBD+CBG Tinctures: Unleashing the Power of Cannabis
CBD+CBG tinctures represent a groundbreaking avenue for harnessing the benefits of the cannabis plant without resorting to harmful smoke or vapor. For far too long, the vast therapeutic potential of the cannabis plant has been overlooked by the average consumer. However, the advancements in plant-based products continue to push boundaries every day. By combining the well-known CBD cannabinoid with the new and safe CBG cannabinoid, our tinctures offer enhanced therapeutic benefits, providing a revitalizing and transformative experience.
Decoding CBD vs. CBG: Unveiling Unique Pathways
It's essential to understand that the cannabinoids found within the cannabis plant interact with each individual in distinct ways. While CBD might be effective for some, it may not deliver therapeutic effects for others. The emergence of CBG as a new and accessible cannabinoid opens up new possibilities for individuals to discover what works best for them in their cannabis journey.
CBG shares similarities with CBD, yet possesses its own distinct characteristics. When combined in a single tincture, CBD+CBG can help consumers achieve desired results from their cannabis consumption. Completely non-impairing, just like CBD, CBG interacts with different cannabinoid receptors in the body. This makes CBG suitable for addressing issues such as migraines and appetite stimulation. By harmonizing these two cannabinoids, everyday consumers can lead a healthier, more balanced life, empowered by all-natural solutions to life's myriad challenges.
Unlock the transformative power of CBD+CBG tinctures by SALVA, and embark on a journey towards enhanced well-being and balance. Experience the synergy of these remarkable cannabinoids, tailored to elevate your cannabis experience like never before.
Shake well and begin with small doses.
KEEP OUT OF REACH OF CHILDREN.

Store in a cool, dry place.

This product contains a total delta-9-THC concentration that does not exceed 0.2% on a dry-weight basis.

Do not use if the safety seal is damaged or missing.
Not intended for use by anyone under the age of 18 without adult supervision.

Do not use if you are pregnant or nursing.

Consult your physician prior to use if you are taking any medications. If any adverse reactions occur, discontinue use and consult your doctor.
Frequently Asked Questions
At SALVA, we are dedicated to assisting our customers in finding the perfect product to lead a healthy and balanced life. Allow us to share our knowledge and resources with you to help you discover the ideal cannabis product. Here, you'll find answers to some of the most frequently asked questions about CBD CBG tinctures.
CBG is a cannabinoid that has been present in trace amounts within the cannabis plant for many years. Traditional cannabis plants typically contain high levels of THC, the compound responsible for impairing effects and the plant's infamous reputation. However, advancements in cultivation techniques now allow us to encourage the cannabis plant to produce higher levels of specific cannabinoids. CBG is the latest cannabinoid to be made available to consumers through oils, edibles, and tinctures.
CBG oil is a herbal solution infused with the cannabinoid CBG. Often delivered via tincture, this oil is stored in a small bottle equipped with a dropper for easy administration. By placing the oil under the tongue, it is absorbed directly into the bloodstream through the surrounding tissues.

 
What are the Benefits of CBG?

Similar to CBD, CBG is beneficial for promoting a healthy mind and body. The effects of CBG are gentle and subtle, contributing to a more balanced lifestyle.
Experience the positive impact of CBD and CBG on your life with our smokeless cannabis product, which harnesses the therapeutic effects of cannabis without any impairment. SALVA takes pride in offering high-quality products, and our CBD CBG tincture is conveniently packaged in a 30 ml bottle, allowing you to enjoy it at home or on the go. Rest assured that all our products are completely safe for daytime or nighttime use.