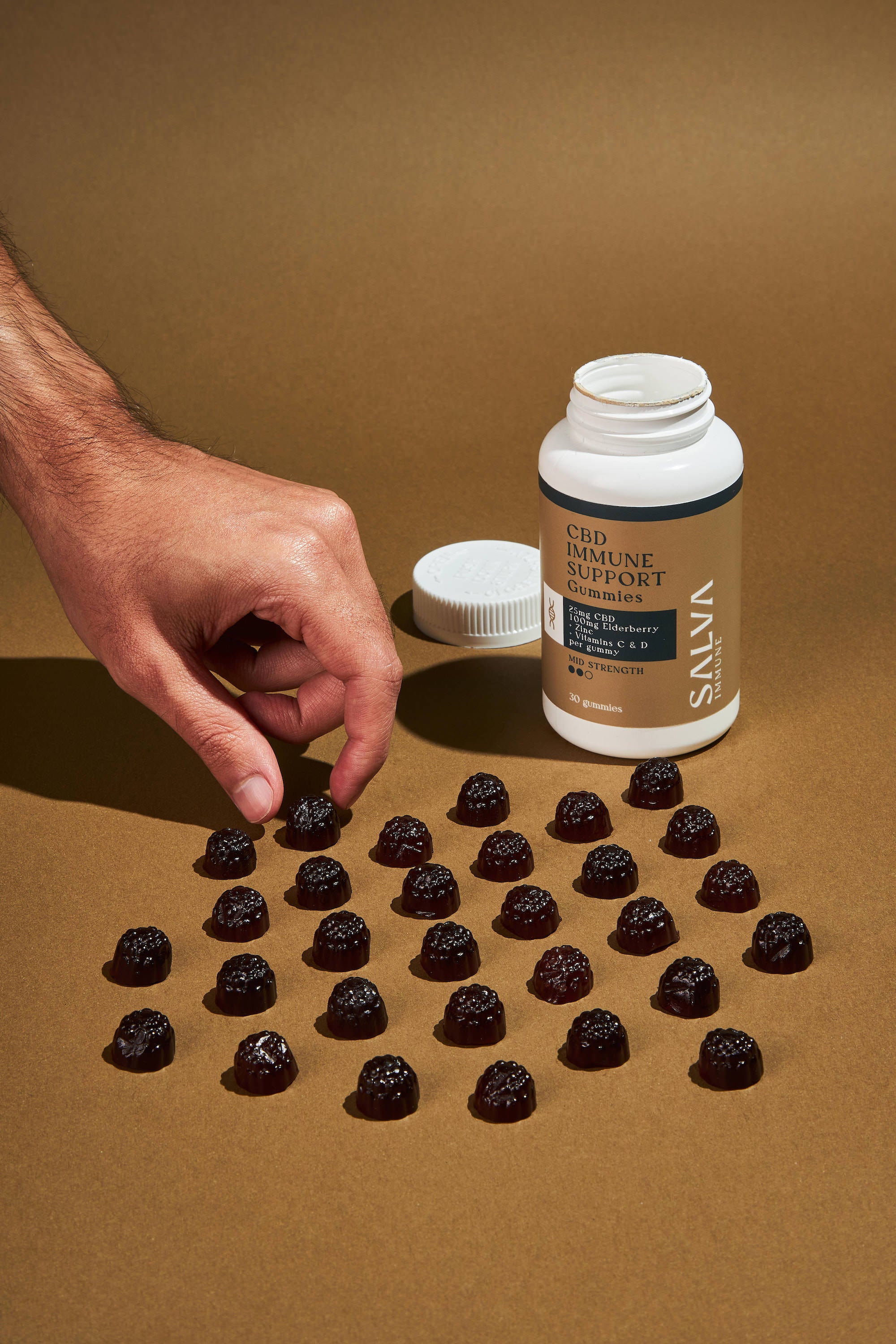 SALVA CBD Immune Support Gummies: 25mg CBD 100mg Elderberry + Zinc + Vitamins C & D (30 gummies)
---
Elevate Your Well-being with SALVA CBD Immune Support Gummies
Discover the latest breakthrough in achieving a balanced and healthy life with immune support gummies infused with CBD. When it comes to finding the best immune support gummies on the market, look no further than products that harness the power of CBD. Boost your resilience and fortify your immune system to overcome life's challenges with ease.
Explore the Power of CBD in Immune Support GummiesSALVA proudly presents a groundbreaking product that combines premium immune boosters like Vitamin C and Elderberry with a touch of CBD. Experience a clearer mind and enhanced focus, while empowering your immune system to face any obstacle that comes your way. Embrace a new rhythm of life with CBD-infused immune support gummies and shield yourself from sickness in all its forms.
Unleash the Potential of Immune Support Gummies
Sometimes, we all need a little boost. While many have turned to Vitamin C, Elderberry, Zinc, and Vitamin D for their immune support, the remarkable benefits of CBD have often been overlooked. By merging daily supplements with CBD, you can supercharge your immune system, enhance focus, and bolster your body's ability to ward off illness.
SALVA immune support gummies offer a perfect blend of essential vitamins and a gentle dose of CBD, conveniently packaged as delicious edible gummies. Experience subtle yet transformative effects, leaving you relaxed, focused, and equipped with a renewed ability to achieve restful sleep.
Unlock the Full Potential of CBD
For far too long, CBD has been unjustly disregarded as a powerful tool for enhancing overall health. The outdated stigma attached to the cannabis plant has caused many to dismiss the incredible benefits CBD can provide. In truth, CBD allows us to harness the therapeutic properties of cannabis without any impairing effects. Our bodies' endocannabinoid system plays a crucial role in our well-being, and CBD acts as a supplement, supplying vital cannabinoids to help us live life to the fullest.
By incorporating immune support gummies into your daily routine, fortified with additional vitamins, you can elevate your well-being and conquer the challenges of home, work, and family life. Enjoy a gummy during breakfast or before bedtime to promote deep, restful sleep. Rest assured, CBD is incredibly safe, with subtle and gentle effects that vary from person to person. While some may experience remarkable benefits, others may notice more subtle improvements in their daily lives. Your journey with CBD is a personal one, brimming with potential for life-changing benefits awaiting your discovery. Embrace the power of CBD-infused immune support gummies and unleash your true potential.
Have more questions? Reach out to us directly and find the perfect product for you. Many of our products are tailored to those who are new to CBD, and we are looking forward to assisting your journey with CBD and the cannabis plant.
KEEP OUT OF CHILDREN'S REACH. Store in a cool, dry place.
This product contains a total delta-9-THC concentration that does not exceed 0.2% on a dry-weight basis.
Frequently Asked Questions
SALVA is dedicated to helping our customers find the perfect fit when it comes to CBD use. Find answers to the most common questions regarding immune support gummies with CBD.
What Are Immune Support Gummies? 

Immune support gummies are small candies that contain a number of daily vitamins and CBD. Cannabis producers have found ways to isolate specific cannabinoids of the cannabis plant, specifically the non-impairing CBD. By taking immune support gummy with CBD, customers get the benefits of daily vitamins and the therapeutic benefits of cannabis without any sort of "high."
How Often Can I Take Immune Support Gummies?

Immune support gummies are best consumed one to two times a day, either in the mornings or evenings. Consider taking a gummy with food, either with breakfast or dinner. Gummies can also be consumed during the day and have no impairing effects whatsoever.
Do Immune Support Gummies Have CBD?

Yes, SALVA immune support gummies do have CBD in them. They are entirely safe for daily consumption and do not offer any sort of impairment. Paired with daily vitamins, immune support gummies with CBD can be integrated into anyone's daily routine, with subtle benefits that are often experienced over time and with daily consumption.
What Do Immune Support Gummies Do?

Immune support gummies with CBD can help you remain focused at work, and live a healthy and more balanced life. The end result is a mind and body that can fend off sickness in its many forms.