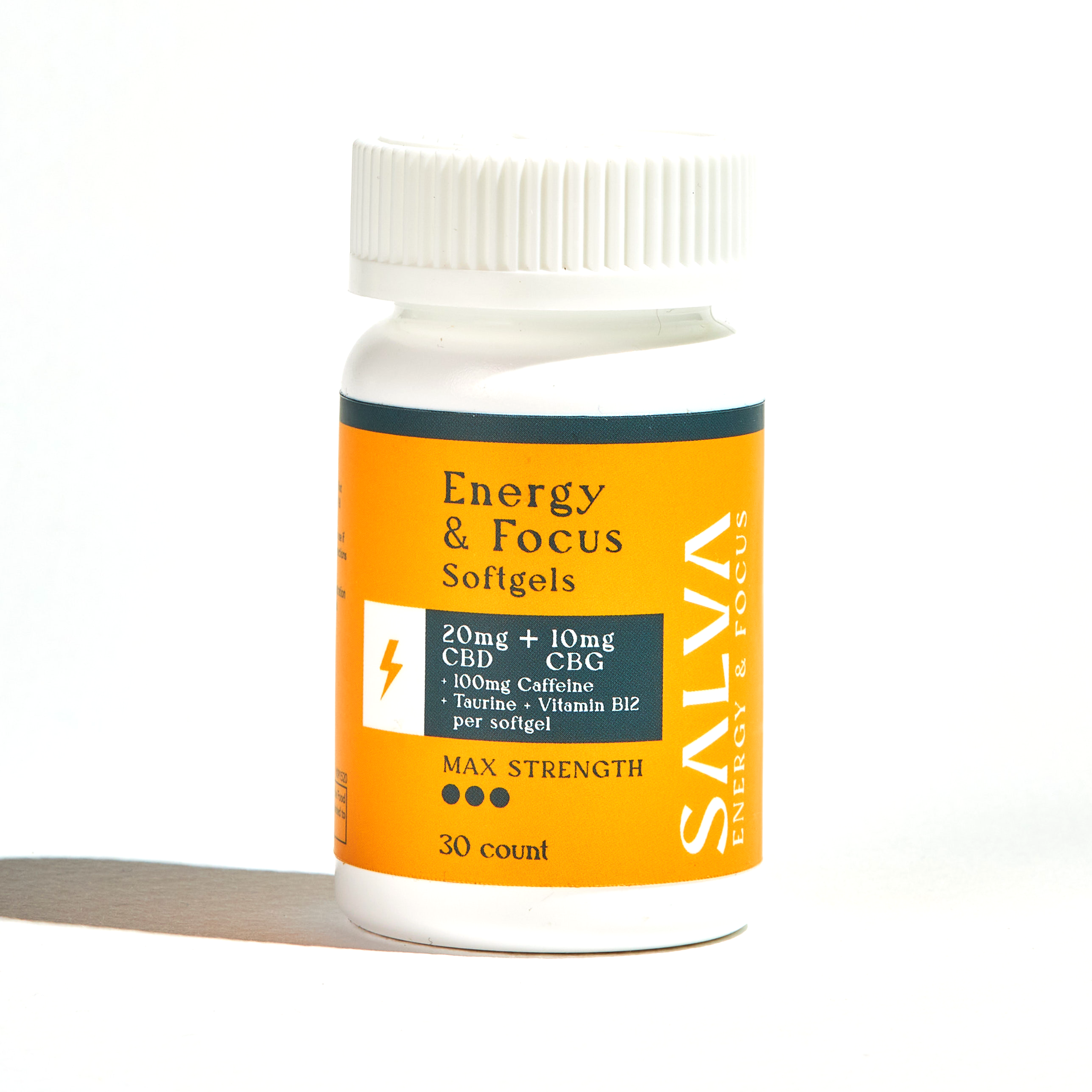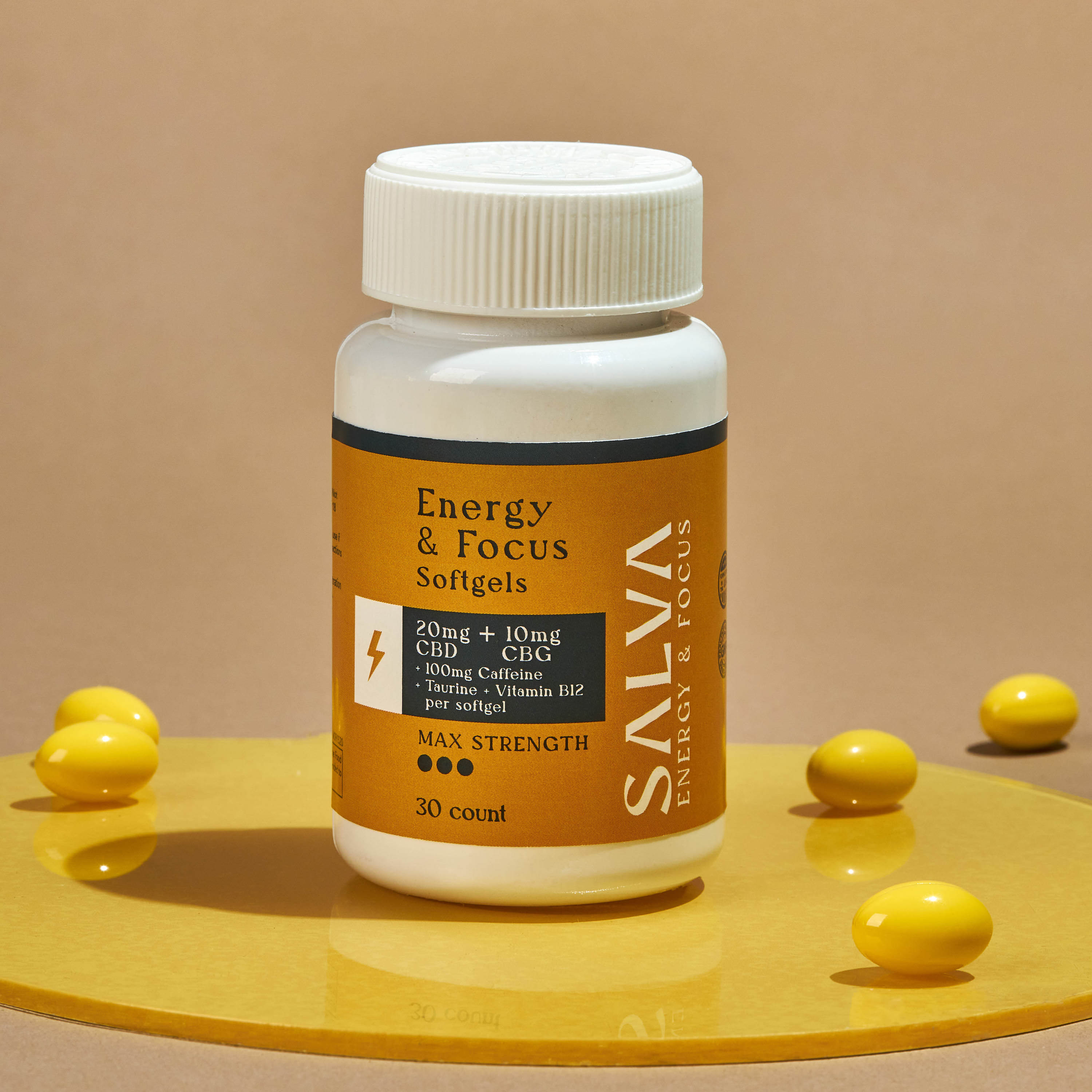 SALVA Energy & Focus Softgels: 20mg CBD + 10mg CBG + 100mg Caffeine + Taurine + Vitamin B12 (30 count)
---
CBD energy softgels have taken the health industry by storm, helping clients internationally perform at their best each day whether it is at home, in the office, or in their leisure time. CBD energy softgels, when paired with small doses of caffeine and taurine, offer incredible levels of focus that can help anyone stay energized despite life's challenges.
CBD Energy Softgels To Boost Focus and Include CBG, Taurine, and Caffeine
Everyone can use an extra boost to their energy levels. As the demands of life continue to pile up, there are very limited solutions that are both safe and effective. CBD energy softgels and CBD energy pills offer potentially life-altering results that are free from the impairment that has been associated with the cannabis plant for so many years.
CBD Energy: Explore the Wonders of CBD and CBG Yourself
The cannabis plant has been misunderstood for decades, and while some consumers might associate it with a negative stigma, the truth is that it has so much to offer the everyday consumer. THC has grown a reputation as a recreational drug, but truthfully the cannabis plant has been misunderstood, and its wonders have yet to be fully uncovered.
SALVA CBD and CBG Energy & Focus Softgels offer an innovative mix of energy-boosting supplements and two remarkable cannabinoids that have been known to boost focus levels and raise energy without ever feeling high or "stoned.'' By isolating specific cannabinoids that are free from the psychoactive THC compound, consumers are able to leverage the health benefits of the plant while avoiding impairment in an easy-to-consume softgel.
Consider consuming one of SALVA's CBD+CBG Energy & Focus Softgels to perform better in the gym, stay focused throughout a long day at work, or even during competitive video game sessions. Take one softgel in the morning with food and pay special attention to the effects throughout the day. Many users report being able to remain focused. Whether it is work-related demands in the boardroom or on the construction site, these softgels can help you stay in the zone and perform at your best. 
There are truly no limits to what CBD and CBG energy softgels can offer the world.
Take one (1) or two (2) softgels daily.
Do not use if safety seal is damaged or missing.

Not intended for use by anyone under the age of 18 without adult supervision. Do not use if you are pregnant or nursing. Consult your physician prior to use if you are taking any medications. If any adverse reactions occur, discontinue use and consult your doctor.

KEEP OUT OF CHILDREN'S REACH.

Store in cool, dry place.

This product contains a total delta-9-THC concentration that does not exceed 0.2% on a dry-weight basis.
Frequently Asked Questions
The wide array of products and information available online can often leave consumers feeling confused and overwhelmed. At SALVA, we are dedicated to helping our customers find the perfect product to meet their needs. Here, you will find answers to some common questions regarding CBD energy and focus products.
How Does CBD Provide Energy?

CBD and CBG are remarkable cannabinoids derived from the cannabis plant, carefully isolated to offer therapeutic benefits without the psychoactive effects of THC. As the cannabis industry has evolved, new products have emerged that harness only the plant's therapeutic properties, providing solutions free from impairment. SALVA's softgel product is designed to enhance focus and increase energy levels, enabling consumers to perform at their best both at work and at home.
Are CBD Energy Softgels Safe?

Absolutely. CBD and CBG cannabinoids are exceptionally safe to use, offering subtle benefits that can be experienced without concern, whether at work or on the go. Many consumers report feeling increased focus, along with a gentle sense of calm and energy.
Why is CBD Beneficial for Energy?

CBD is a unique cannabinoid known for its wide range of health benefits. Each individual's experience with CBD and CBG is unique, promoting overall wellness in different ways. One notable aspect of CBD is its ability to improve sleep quality, allowing individuals to wake up feeling refreshed and ready to tackle the day. By supporting overall well-being, many consumers report enhanced focus throughout the day, better able to avoid digital distractions and perform at their best.

When CBD is combined with common energy-boosting supplements, the result is a product that helps individuals tackle life's challenges. Regular consumption of energy-boosting softgels can decrease stress levels, while CBD in an isolated form aids in proper recovery and ensures a restful night's sleep after a long day.