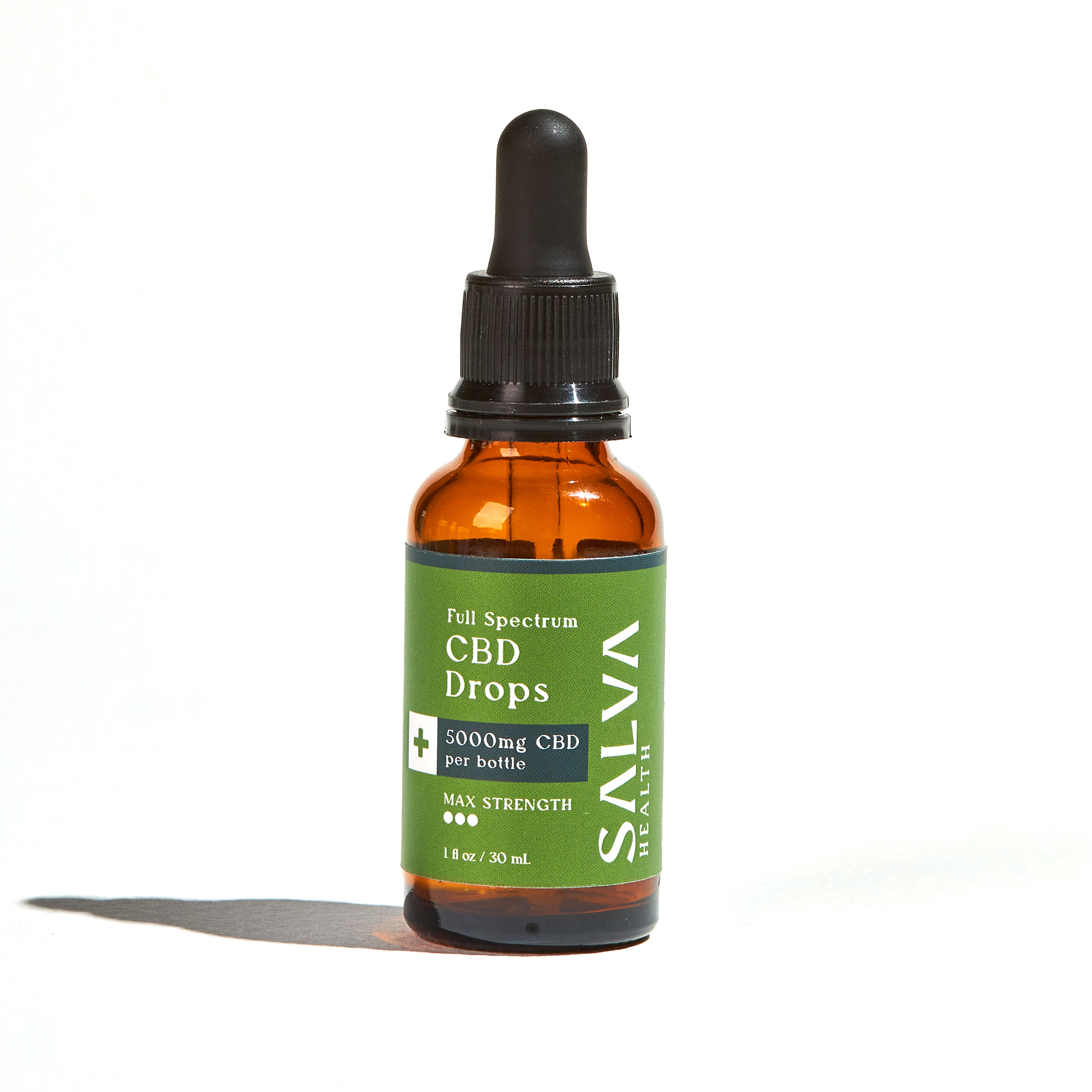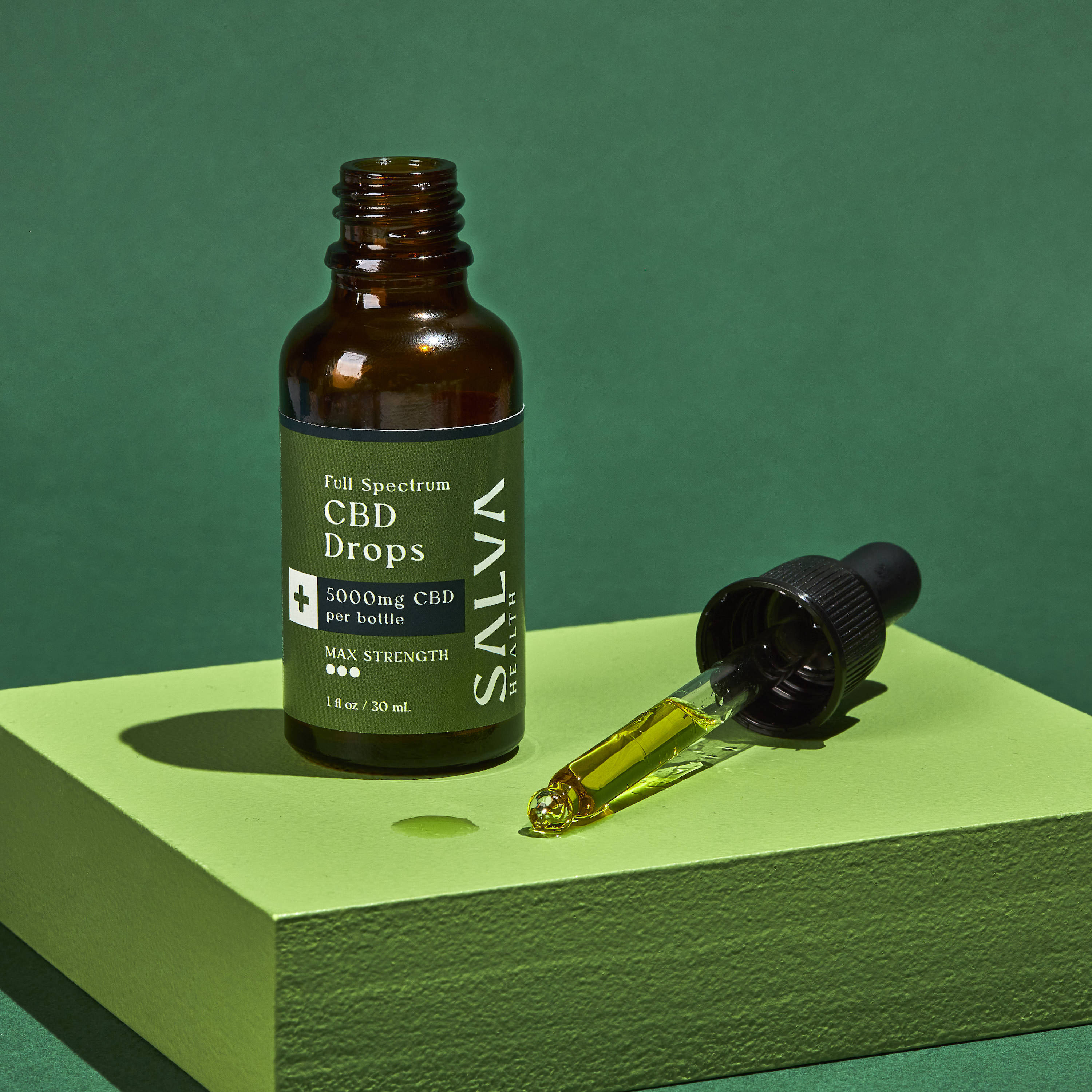 SALVA Health Full Spectrum CBD Drops: 5000mg CBD (30 ml)
---
Unlock the Full Potential of CBD with Full-Spectrum Tinctures
Experience the true power of the cannabis plant with SALVA's Full-Spectrum CBD Tinctures. While CBD extracts have gained popularity, they often lack the full range of benefits that the entire plant can offer. Our full-spectrum tinctures deliver not only CBD but also the precious flavonoids and terpenes that are typically lost during extraction.
Unleash Whole Plant Wellness with Full-Spectrum CBD
What sets our full-spectrum CBD products apart is their commitment to "whole plant wellness." These tinctures contain a rich blend of terpenes and flavonoids found in the dried flower, working synergistically with CBD to create what is known as the "entourage effect." This remarkable innovation in cannabis brings together the incredible therapeutic benefits of multiple plant compounds into one product.
Experience Unmatched Well-Being with Full-Spectrum CBD
Unlike isolated CBD, our full-spectrum tinctures offer a comprehensive range of benefits that promote balance and well-being like no other. The Full-Spectrum Basic Health CBD Tinctures from SALVA are completely safe to use at any time of day and do not cause impairment, allowing you to explore the incredible health benefits of CBD without any drawbacks.
Embark on Your CBD Journey with SALVA
Discover the power of full-spectrum CBD at your own pace and embrace a new level of wellness with SALVA. Our high-quality Full-Spectrum CBD Basic Health Tinctures cater to both first-time and experienced consumers, providing health benefits without impairing effects. By delivering CBD through a tincture, you can enjoy fast and effective relief without the harmful toxins associated with smoking dried cannabis flowers. Simply place a few drops under your tongue to allow the product to enter your bloodstream rapidly through the tissues.
Integrate CBD into Your Daily Routine
Our CBD tinctures fit seamlessly into any daily routine, whether it's in the morning, during the day, or before bed. The gentle health effects are entirely non-impairing, allowing you to embrace the unique journey of CBD tinctures without any unwanted side effects. We encourage first-time users to document their experiences to find the perfect dosage and routine that works best for them.
Experience Fast-Acting Relief with SALVA
SALVA Full-Spectrum Health 5000 mg tinctures come with an easy-to-use dropper, ensuring fast-acting relief in a matter of minutes. Whether you're at home, on the go, or at work, our tinctures are completely safe for use at any time, providing you with the benefits you need, whenever you need them.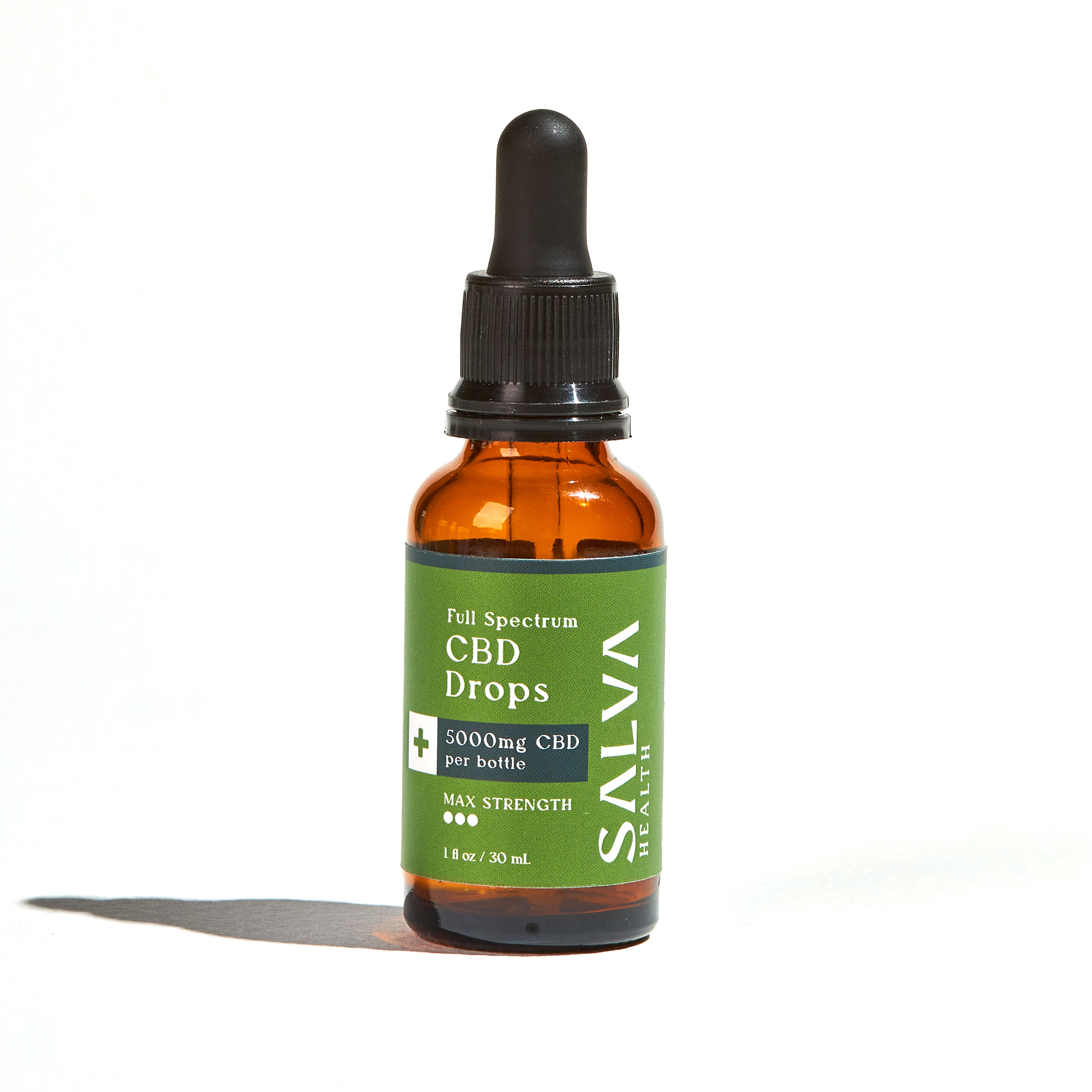 Frequently Asked Questions
Discover the answers to the most commonly asked questions about full-spectrum CBD tinctures, including how to use them and their incredible health benefits.
How to Use Full-Spectrum CBD Tinctures?

SALVA full-spectrum CBD tinctures are designed for sublingual consumption, meaning the product is absorbed through the tissues under your tongue and enters your bloodstream directly. Simply place a few drops under your tongue and allow the solution to fully absorb for about a minute. This method offers rapid avenues to wellness compared to digestion, providing therapeutic benefits almost immediately upon ingestion.

We recommend starting with small doses of SALVA CBD full-spectrum tinctures and gradually increasing the dosage over several days.
How to Ingest CBD Tinctures?

You can ingest a drop of SALVA full-spectrum tincture in the morning, during the day, or before bed. In addition to placing it under your tongue, you can also add a drop to your morning coffee, smoothie, or food. If you consume the product orally, it may take several hours for the effects to manifest.
How Long Does CBD Stay in Your System?

CBD can remain in your system for several days and sometimes even weeks. Many cannabinoids present in the cannabis plant are fat soluble, meaning they can linger in your body for a while. Full-spectrum CBD products may contain traces of other cannabinoids and terpenes, such as CBN and THC. It's important to note that full-spectrum CBD products may yield positive THC results in drug screenings.
If you're seeking relaxation with CBD, it's best to start with a small dose and determine what works best for you. Gradually increase your dosage over several days to find the perfect amount that suits your needs. First-time users should document their CBD experiences to identify the ideal consumption method and dosage for achieving the desired level of relief. When using CBD tinctures, expect a gentle and calming sensation, akin to sipping a cup of tea, as you feel more balanced and resilient in the face of life's challenges.

Take note of your first experience, and increase the dosage in very small increments over several nights.
What Is The Difference Between CBD Tinctures and Edibles?

These two different consumption methods can change the way CBD is experienced. CBD administered orally with a gummy can take several hours to be experienced, while a tincture can offer results much faster. Each consumption method is worth exploring so consumers can determine which product best suits their needs.