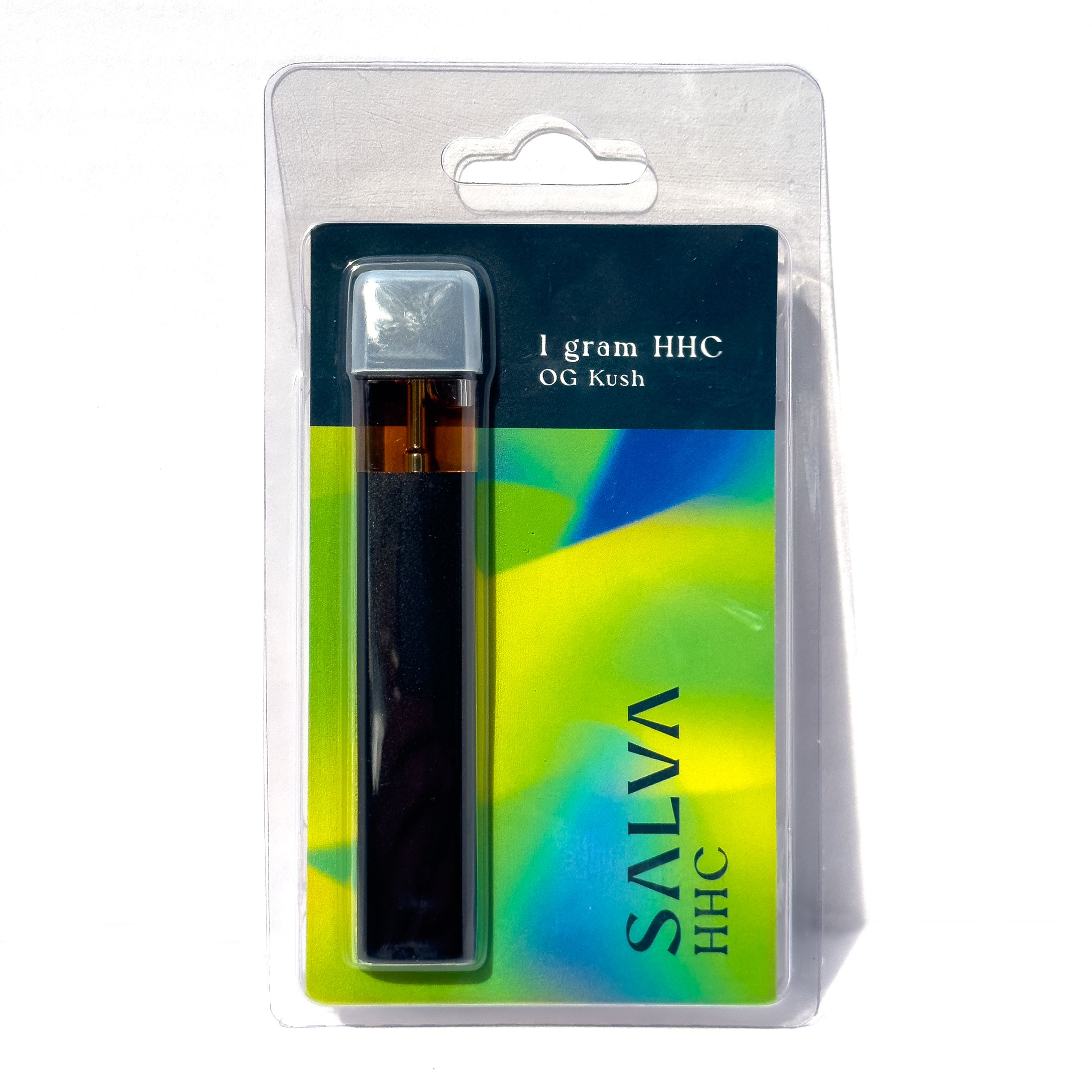 SALVA HHC Vapes, OG Kush: 1 gram HHC
---
HHC vapes are revolutionizing how cannabis consumers are enjoying their favorite cannabis strains, harnessing the power of vaporization that avoids "smoking" anything at all. HHC vapes and disposable cannabis vapes maintain the plant's terpene profile, meaning you get all the enjoyment of strains such as OG Kush without any of the fuss of handling dried flowers.
HHC Vapes From SALVA

HHC vapes from SALVA take away all the fuss of consuming cannabis and instead offer an easy-to-use solution for enjoying your favorite strains. HHC vapes now available in Gelato are a breath of fresh air in a complex cannabis market, allowing for the enjoyment of cannabis in a discreet, disposable HHC vape perfect for your needs. HHC cannabis vapes are a different approach to consuming cannabis, harnessing all the benefits of the plant with effects that are more gentle and less overwhelming than traditional THC.
Gelato vapes from SALVA preserve the finer points of the plants including terpenes and flavonoids, offering an enjoyable and easy experience that simply works. Never fumble with rolling cannabis cigarettes or using glass pipes, but instead enjoy a blast of vapor that is less harsh on the lungs. Try something different and experience the exceptional quality of disposable HHC vapes that are sure to delight both experienced cannabis consumers and newcomers alike.
HHC Vapes and OG Kush Products
The OG Kush strain has gained a reputation as one of the best cannabis strains on the market today. SALVA OG Kush HHC vapes provide a gentle cannabis experience that helps anyone unwind with a gentle full-body calmness that is suitable for a chill evening at home, or even a night out. Consumers should expect to enjoy a terpene profile that includes notes of pine and earth, along with hints of lemon and skunk.
In the form of a disposable vaporizer, OG Kush as a strain can be enjoyed at your own pace with simple, easy-to-use vaporizable oils that maintain the plant's flavor and aroma.
HHC Vapes Stand Out Over Traditional THC
HHC remains one of the lesser known cannabinoids available today, but is actually hemp-derived, rather than cannabis-derived, readily available in vaporizable oil. This means that in certain states across the United States where THC is unavailable, HHC can offer similar and more gentle effects than traditional THC, without any legal hurdles to navigate.
Many consumers report that HHC feels less overwhelming than traditional THC products, and is perfect for those who are unsure about cannabis use and wish to explore a product that is less intense.
HHC Vapes With an Emphasis on Quality
Get up close and personal with a lineup of SALVA products that put the everyday cannabis consumer first. Disposable vapes from SALVA offer some of the best cannabis products that offer pure and high-quality ingredients that look to provide the best experience with the plant possible. All SALVA offerings adhere to incredibly strict quality assurance standards along with local legislation. Never worry about quality, and embrace SALVA products that are focused on bringing you an exceptional experience with the cannabis plant, in all its forms.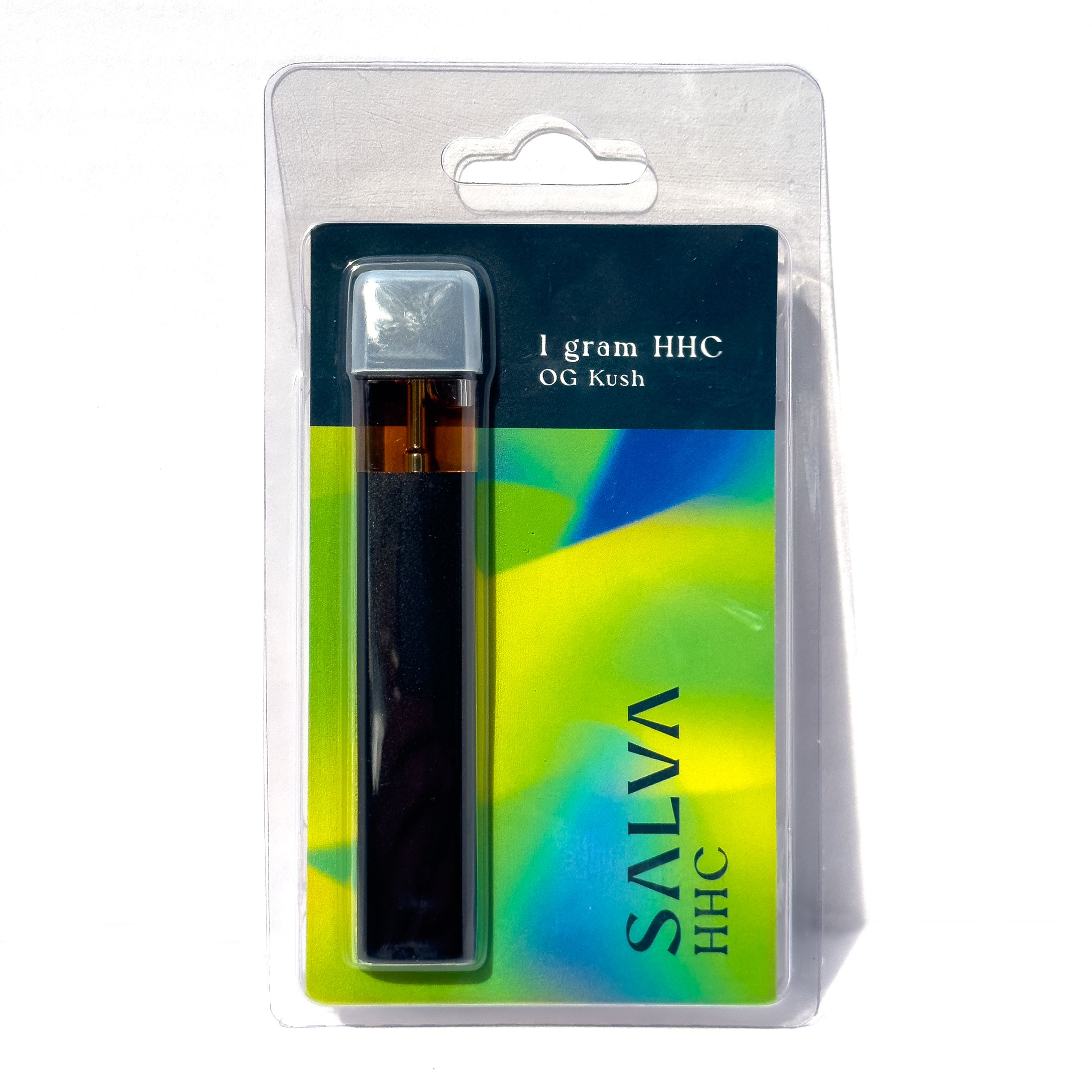 Frequently Asked Questions
Here are answers to common questions about HHC vapes and their usage to help you better understand the product and its benefits.
HHC vapes are revolutionizing the way cannabis consumers enjoy their favorite strains. These vapes harness the power of vaporization, allowing you to experience the enjoyment of strains like Gelato and OG Kush without the need to handle dried flowers or smoke.
HHC vapes utilize disposable vaporizers that contain vaporizable oil derived from hemp. When you inhale from the vape, the oil is heated and transformed into vapor, which you can then inhale. This vaporization method provides a gentle and less harsh experience compared to traditional THC products.
What is the advantage of using HHC vapes?

HHC vapes offer several advantages over traditional THC products. Firstly, they are discreet and convenient, providing an easy-to-use solution for enjoying your favorite cannabis strains. Additionally, HHC vapes maintain the terpene profile of the plant, preserving the flavor and aroma for a more enjoyable experience. The effects of HHC are also reported to be more gentle and less overwhelming than those of traditional THC, making it suitable for newcomers and those who prefer a milder experience.
Yes, HHC is hemp-derived rather than cannabis-derived. In states where THC may be unavailable or restricted, HHC can offer similar effects without any legal hurdles. However, it's essential to familiarize yourself with the specific regulations in your location to ensure compliance.
What strains are available in HHC vapes?

SALVA offers HHC vapes in popular strains such as Gelato and OG Kush. Gelato provides a delightful and easy-to-enjoy experience, while OG Kush offers a gentle full-body calmness with a terpene profile that includes notes of pine, earth, lemon, and skunk.
How long do HHC vapes last?

The lifespan of an HHC vape depends on individual usage. Factors such as frequency of inhalation and draw duration can impact the duration. However, each disposable HHC vape is designed to provide a satisfying experience until the oil is depleted.
Can I recycle HHC vape pens?

It is recommended to check local recycling guidelines for the proper disposal of HHC vape pens. Some regions may have specific recycling programs for disposable vaporizers, while others may classify them as electronic waste.
Are SALVA HHC vapes high-quality?

SALVA prioritizes quality and adheres to strict quality assurance standards and local legislation. Our HHC vapes are crafted with pure and high-quality ingredients, ensuring an exceptional experience with the cannabis plant in all its forms.